Answers to your burning IDX questions
Whether you landed here accidentally or arrived knowing exactly what you want, this is your hub for all things IDX! Run through our frequently asked questions and if you still aren't sure what you need, just request a free consultation. We are here to help!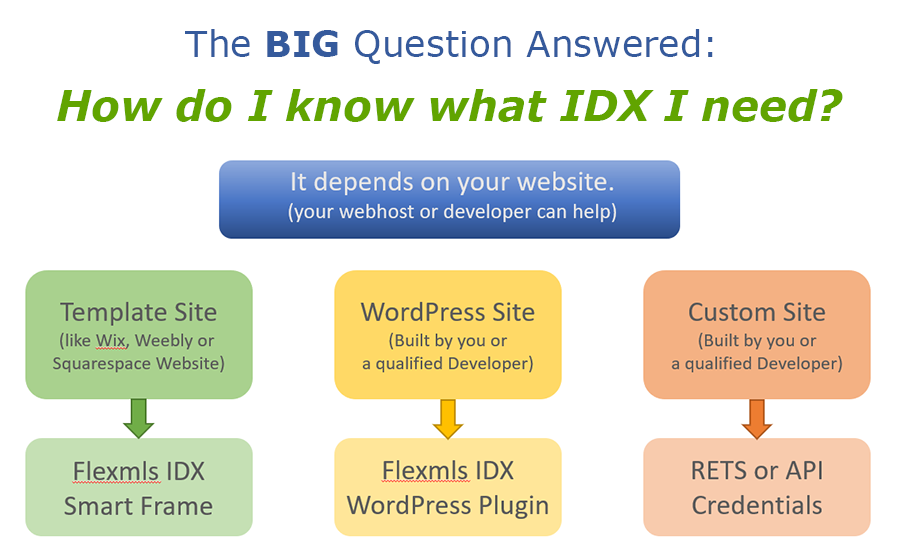 What is IDX?
IDX is the method by which you can share a home search and available listings with your customers and prospects, on a public-facing website. It's a great way to engage new leads!
What is an IDX/Data Feed?
IDX data feeds are different ways that data is transported from your MLS to your website. RETS and API are the two most common types of data feed.
What is a SmartFrame?
SmartFrame
is FBS' entry-level, plug-n-play IDX solution, and is a perfect fit for any website including Wix, Weebly, and Squarespace.
What is a WordPress Plugin?
WordPress Plugin
is add-on software specifically for WordPress websites that provides IDX search and display options for your website. With a Plugin you can typically manage most IDX functionality from within the WordPress dashboard itself.
Can I show just My Listings?
YES! You can provide both a full MLS search and a link to showcase just your own listings on your website. In fact, we recommend that you have links for both.
What do I need for a Wix site?
If you use a template site like Wix, Weebly or Squarespace, the most suitable solution would be the Flexmls IDX SmartFrame.
Do I need a Developer?
Maybe not. If you use the SmartFrame or WordPress Plugin, you don't have to have a Developer. However, if you are looking for a more customized or sophisticated implementation, a developer might be a good idea. We have a list of recommendations. Neither solution requires any coding knowledge, however. For API or RETS, a developer is required in order to program data into a user interface.
What is IDX Approval?
All MLSs or Associations require agents or brokers to obtain approval for access to IDX data. The process varies by organization and can include forms and fees directly to the MLS. Contact your MLS directly for more information.
When is IDX data updated?
It depends on how the data is accessed and the company you are working with. Some IDX providers download new data and update their IDX products every 15 minutes, others much less frequently. Flexmls IDX data is always as fresh as your MLS system.
What is Live Data?
Live Data means data that is accurate and synchronized to within seconds to the data in your MLS - new listings, price changes, status changes etc… Once a change is made in Flexmls, it is instantly reflected on your website. Flexmls IDX from FBS Products features Live Data with no delays.
What is an all-in-one site?
Sites that come ready with hosting, templates, and IDX; one price and one vendor, making the process as simple as possible. Many vendors offer them, including us! You can learn more about all-in-one sites here.
here.
Are there online tutorials?
Absolutely! We have educational webinars, articles, videos, downloads and more in our
Success Academy
and our online Help Center is available 24/7 for product-specific questions.
Still not sure what you need?
Use our handy help wizard to guide you through the process or contact us for a free consultation.