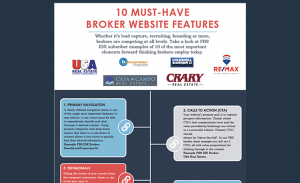 By Mike Price – IDX Trainer
Big broker results. Small broker resources.
You've invested time and capital into a website for your brokerage. You've promoted it, but of the people you've been able to get to the site, few convert to leads.
The Challenge of Lead Capture
Websites are not brochures. Just posting the same thing someone can get from a chamber of commerce profile won't have people asking you to set up showings or list their properties.
Getting people to your site is only part of the equation.
The calls to action you have on your site once they are there will determine how likely they are to provide you with the information you need to establish a relationship. Do they give you their information in exchange for the download of a unique piece of content you've created? How about the invitation to create a portal account to save searches and get alerts?
We checked in with some of our broker clients to see how they are leading website visitors through seamless and enjoyable experiences and put together a list of the top 10 features that help them get it right for today's buyers and sellers. Click the button below to see what we found out:
If you're a broker that's ready to get started with a new site, or you want to audit your current site's home search, you owe it to yourself to get a free, personalized guided tour of the FBS IDX solution powered by Flexmls connected data that's right for you. Use the button below to get on the schedule.