You've got your IDX home search site set up and checked all the boxes for great content. So, where are the leads?
Perhaps it's time to audit your site's calls-to-action (CTAs)? Here are some great tips along with a free download with 6 IDX website lead capture examples.
What Is A Call-To-Action?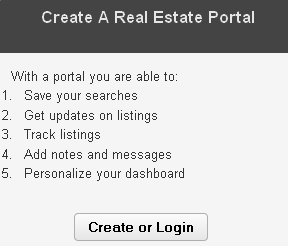 CTA is a term used by marketers. It's the copy used in your site that directs a visitor to an action you want them to take, as well as the method used to facilitate that action. For instance a hyperlink, button, or form (the first two of which you can see examples of on this page). It could be just a couple of words like Sign Up or it could be more instructive, as you see with the example CTA provided to the left, which is created with the portal login widget in the Flexmls IDX® WordPress Plugin that comes pre-populated with CTAs. 
Why Do You Need A Strong CTA?

A strong CTA is a connective element between the great content you have created and the ultimate goal of capturing a lead from it. You could create a killer video or tell the best hyperlocal lifestyle story in the world and still fall short because you didn't create a great incentive that convinces your prospect to act.  
Telling someone what you want them to do also needs to hint at a compelling reason for why they should do it. In our example, what is either to log in to a previously-created account or to create an account. The why is so that a prospect can take advantage of all the benefits a Flexmls portal account affords.
Want to see some great real estate websites with solid CTA Examples?
How Long Should a CTA be?

Should a call-to-action just be a few words or can it be longer than a sentence? The answer is yes. Or, more specifically…it depends. For buttons, generally, brevity is best but with hyperlinks, you can use more long-form text. The message should work with the medium you've chosen.
How many CTAs should there be on the page?
That depends on the purpose of the page. If the purpose of your page is to generate leads by giving folks compelling reasons to contact you, then you should have one or two SOLID and punchy CTAs that drive to that, one purpose. If your page is designed for engagement, meaning you want visitors to click around and learn more, you may want to include some more CTAs to encourage them to explore more. What you want to avoid is creating a lead-capture page with tons of CTAs and links that take visitors to other locations on your site, distracting them from the action you want them to take. And, absolutely, if lead capture is your goal, do not include links to 3rd party websites.
If you still need inspiration, don't forget to download our 6 IDX website lead capture examples using the button above.
Boost your Flexmls subscription with our IDX and built-in lead capture
We make it easy. Each of our solutions comes complete with lead capture that integrates with Flexmls Portals and Contact Management. 
 Find out more by scheduling a fast, free, and personalized demo from a Broker Agent Product Consultant