How to use Facebook pages and groups can in your hyperlocal content strategy to drive qualified traffic to your website. 
Buyers and sellers all have the same desire when it comes to establishing a relationship with a real estate professional. They want to know what you know, especially when it comes to the softer things that can't be reduced to a statistic, like how a neighborhood meets their lifestyle needs. Why do people love living where they do?
One of the best tools for creating and sharing great hyperlocal content is Facebook.
Facebook Page Example: Live, Love Summerville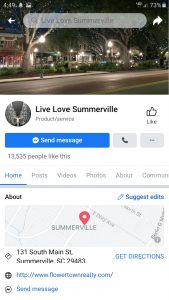 When it comes to understanding hyperlocal content, FBS Products' client Susan Gardner of Flowertown Realty in Summerville SC gets it. Her website and blog represent a best practice example of lifestyle content.
One of the ways Susan strengthens her brand is through a Facebook page she has titled Live, Love, Summerville." At last count, this page has over 13,000 followers! It doesn't come easy, but with the right amount of effort, your brand could be top-of-mind for a targeted group of prospects. If you're prepared to invest time to create the content, it will eventually pay off.
Facebook pages are structured correctly for delivering hyperlocal content. Short posts, videos, photos, events, and a community profile are all sections of a page.
Susan's "About" profile outlines why Susan loves Summerville. It also includes a list of recent testimonials and finishes up with a list of the neighborhoods and zip codes.
The video strategy employed by Susan is a fantastic example of engaging locals to demonstrate and share the stories of the community.
Facebook Group Example – South Tempe Style
Another FBS Products IDX client, The Nick Bastian Team in AZ, not only has a Facebook page but has taken the concept of community a step further.  Nick has created an online gathering spot by deploying a Facebook group.
The description of the group clearly defines the purpose of the over 1,100 members who use it to share the best that living in S. Tempe has to offer. Here's how the description starts: "This group is designed as a community gathering spot, a way for people to share what they love about living, working and playing in South Tempe."
Members of the group share photos, convene in video watch parties, make announcements, recommendations, and more. Think of the top-of-mind branding opportunity that an active forum of over 1100 residents presents! Since the group is private, all members are confirmed upfront. Internet traffic doesn't get any better qualified than that.
Members of Nick's Facebook page and group that one day will be involved with a real estate transaction will think of the Nick Bastian team first. When they arrive at his IDX website, they will find a hyperlocal neighborhood guide with LIVE IDX listings waiting for them there.
Conclusion
These are just two examples of how developing an effective hyperlocal content marketing strategy can help you build a pipeline of qualified traffic to your IDX website. Want to find out more? Use the form below, and an IDX Product Consultant will contact you for a free consultation and demonstration.