There is even more power in Flexmls IDX  when used hand-in-hand with Flexmls Portals.
Not only can visitors to your website self-register for a Portal account to save searches, favorite listings, and get email subscriptions, but you can see their activity online to better understand what they're looking for and how serious their search is.
What is the Flexmls Portal?
Accessed via the Flexmls Platform, the Portal works with your contacts to provide a personalized area for prospects and clients to keep track of listings and more. Not just on the web but in the industry's best mobile home search application.
There is no need to have multiple dashboards or systems to work with your leads as the Portal integration of your IDX solution automatically puts them into the Contact Management area of Flexmls.
Integrating your Portal with your IDX site is easy.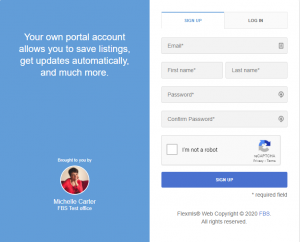 If you use our SmartFrame solution, there are already CTAs (Calls to Action) built into the interface that encourage visitors to sign-up for a portal account. For instance, just the act of saving a search requires a website visitor to log in or sign-up for a Portal account.
What's more, you can control the settings of how these CTAs behave for each link you post, directly in the IDX Manager area of Flexmls.
In our WordPress Plugin, there are similar built-in CTAs too. Your developer can also create customized CTAs with clearly defined value propositions that can improve the chances of generating Portal leads.
Best of all, you get to see all your new contact's activity within the Flexmls Platform, providing you with critical intelligence about what kinds of properties your customers are interested in and how actively engaged they are in their search (and therefore serious about moving forward).
The Bottom Line: If you're not leveraging Flexmls IDX and Portals together, you could be missing out on leads.
With an IDX solution connected to the Flexmls Platform powering your website, you can funnel your visitors directly to your Flexmls Portal as a lead. It sets you apart from your competition and reduces the chance of you losing prospects down the rabbit hole of large portal sites (who then want to sell you back your lead for a fee!)
Want to see how the path of calls-to-action and portal lead capture work? You can get a free guided tour of the solutions available to you as a user of Flexmls. Just click the button below and we'll schedule a time that works for you.